Hi,
Greetings from Bharti ads,
We are happy to inform you that we have reached the landmark of 1,50,000 Registered users.
To celebrate this super achievement we at www.bhartiads.com have an Offer that you simply will love. This offer is exclusive for all users. There are two offers for just you, one for premium listing where you can get maximum visibility and the second is for a whole new page tailor made for you to use as a landing page or even as a One Page website. We are not even counting the number of visitors that you will get from bhartiads users and the free Search Engine Optimisation that will be done for your page.
LISTINGS:
As you already know, we have category wise or location wise ads that are posted on the website. You can choose the page where you wish to be listed at the top in the premium ads positions in all the categories and locations/cities. Latest ads take up top positions in normal circumstances but with premium ads you will remain at the top till your stipulated time.
Please find the offered price list for the listing below.
| | | | |
| --- | --- | --- | --- |
| Category | Current Price | Discounted Price | Duration |
| Platinum | Rs.2000/- | RS.1,500/- | 1 Year |
| Gold | Rs.1250/- | Rs.850/- | 6 Months |
| Silver | Rs.750/- | Rs.500/- | 3 Months |
See more details here : http://www.bhartiads.com/categories/index.php
Landing Page/One Page Website:
A great way to get business online is to be able to be visible to your clients.
Make a persuasive and impelling website with important details of your services or products.
Do SEO and promote your website
Add features like forms that allow your visitors to send you queries. Queries meant exclusively to you.
Spend loads of money on both Development and SEO of a new website that will take ages to come up on search engines OR
simply become a part of a website that has great traffic, with SEO done for you
With contact form exclusively for you
a page that acts like your website without spending on buying and hosting a domain website.
You can use it for all your emails and visiting card and official purposes.
All this and more at the cost of only Rs.5000/- (the current price is Rs.7500 but you get it at discount of 33%) saving thousands of rupees.
You can use this as your landing page when you advertise on google or facebook
| | |
| --- | --- |
| Current Price | Discounted Price |
| Rs.7500/- | Rs.5000/- |
Imagine if u get even 10% of the 1,50,000 registered users we have, and you if you get 1% conversion. You will get a neat 1500 customers!!!
Not to forget the thousands of other visitors that we get daily,
Rather than investing and undertaking huge costs, we suggest you invest in www. bhartiads.com and earn customers.
Please see our sample page
url :
How it is linked from the main categories to give you visibility.
http://www.bhartiads.com/categories/advertising.php
This offer valid for payments done before 15th feb 2017.
How does a Premium Ad look like?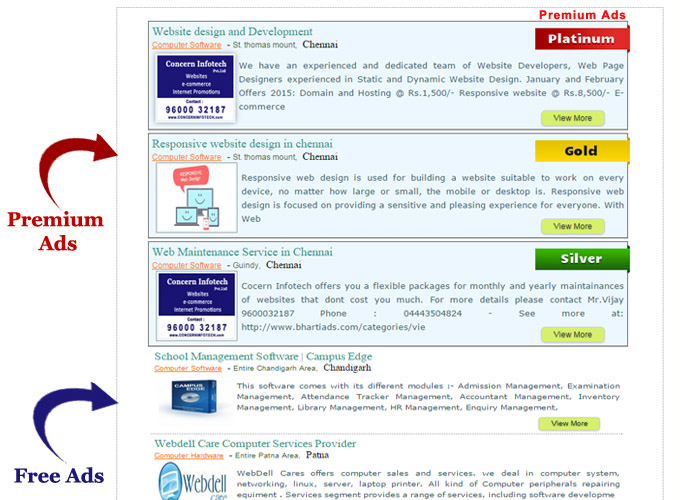 How do I pay for Premium Ads on Bhartiads.com?
Currently, we offer Online Money Transfer option for Premium ads.
When does the Premium Ad get active once I have paid?
All Premium ads go live to the website after 1 business day of the money being transferred.
For More Details Please Contact
Mobile : +91 9600032187
Phone : 044 - 4350 4824