Premium Ads
What is a Premium Ad?
Premium ad is nothing but paid ads that give you the option to make your ad to always appear at the top of the list of ads (in the Premium ads section). It will help you to promote your product or service by getting you more visibility with your clients or buyers and you can sell what you want faster.
Why should I choose Premium Ad option?
Premium ads help you to get more visibility as compared to other ads, by which your products or service gets faster response from the consumers. If you have a Website, paid ads for your website will help you to get instant traffic. Please contact us if you have questions like "How to place paid ads for my website."
How does a Premium Ad look like?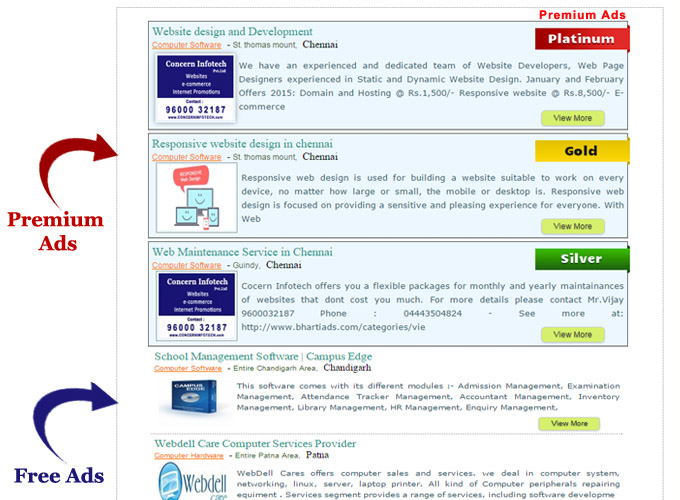 Types of Premium Ads and what are they?
There are three types of premium ads in bhartiads.com. They are,
Platinum
Gold
Silver
How much do I pay for Premium Ads on Bhartiads.com?
Premium ads on bhartiads.com are charged at different rates based on the type of Premium ad you want. The ads can be upgraded and renewed anytime you wish.
Platinum Rs. 2000 for 1 Year
Gold Rs. 1250 for 6 months
Silver Rs. 750 for 3 months
How do I pay for Premium Ads on Bhartiads.com?
Currently, we offer Online Money Transfer option for Premium ads.
When does the Premium Ad get active once I have paid?
All Premium ads go live to the website after 1 business day of the money being transferred.


Landing Page/One Page Website
A great way to get business online is to be able to be visible to your clients. This can be done by making a persuasive and impelling website with important details of your services or products, for which you have to spend loads of money on both Development and SEO of a new website that will take ages to come up on search engines. The more affordable way to do is is make a onepage website with all the required stuff. This page is called the landing page.
Advantages of a landing page.
Become a part of a website that has great traffic, with SEO done for you.
With contact form exclusively for you that will fetch Queries meant exclusively for you.
A page that acts like your website without spending on buying and hosting a domain website.
You can use it for all your emails and visiting card and official purposes.
You can use this as your landing page when you advertise on google or facebook.
All this and more at the cost of only Rs.7500, saving thousands of rupees.
For More Details Please Contact
Mobile : +91 9600032187
One Page Website/ Landing Page - 7500 Rs


Sample Pages