Premium ads
MPSC Coaching Classes Mumbai, IAS Coaching Institutes in Mum
Career Courses -

Mulund colony,

Mumbai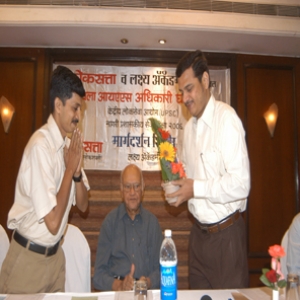 Lakshya IAS Acadamy is one of the top UPSC and MPSC Coaching Institutes in Mumbai. We offers Best MPSC Coaching Classes in Western Suburbs Dadar, Central Suburbs Mulund and Nerul Navi at Mumbai and Pune. For more information, Visit: http://www.
View More
Counseling & Psychotherapy Services in Jaipur India
Colleges -

Jogeshwari west,

Mumbai

Pratiiti is a multidisciplinary & holistic organisation focused on wellbeing. It is a one stop centre for career counseling & achieving optimal mental health. We empower the individuals to realise their potential & embark on a meaningful trajectory f
View More
Knowerx the Premier Institute for APICS Online Training Ind.
Career Courses -

Kandivali east,

Mumbai

Looking for APICS certification programs online from a reputed institute? KnowerX is the best option for you. The institute offers APICS certifications programs as per industry standards. Whether you need to streamline your supply chain, master the b
View More
SQL Server Practical Live Online Training
Coaching Classes -

Marine lines,

Mumbai
SQL School is one of the best training institutes for Microsoft SQL Server Developer Training, SQL DBA Training, MSBI Training, Power BI Training, Azure Training, Data Science Training, Python Training, Hadoop Training, Tableau Training, Machine Lear
View More
QUASTECH (Thane) – Core Java -Advance Java course - 100% Pla
Career Courses -

Entire Thane Area,

Thane

Software Training (Software Testing & Java Development) & 100% Placement @ QUASTECH (Quorate Software Solutions & Technologies) – Thane (West) QUASTECH is a Professional Training Center, Expertise in Training of Software Technology (Java Developme
View More
Its time to improve your study from proper channel
Career Courses -

Baner,

Pune

ADMISSION OPEN FOR Discontinued Students*   Pvt Co., LTD. Co. & Govt. Employees can enroll in Distance Mode for Higher Study, Which Will Help in Promotions & Employment   * BA | B.COM | B.SC | BBA | BCA * MA | M.COM | M.SC | MBA
View More
Education Management Diploma Master Course in Mumbai,India
Schools -

Borivali west,

Mumbai

Education Management Diploma Master Course in Mumbai, Dubai, Saudi Arabia, Bahrain, Abu Dhabi, Muscat, Oman
View More
NLP Programming in Mumbai
Coaching Classes -

Dahisar west,

Mumbai

Neuro Linguistic Programming in Mumbai is for corporates as well as individuals, for students as well as educators, for employees and business persons, for home makers as well as those who are retired, anyone who is keen on self-development can enrol
View More
NLP techniques in Mumbai
Coaching Classes -

Dahisar west,

Mumbai

EmpoweredMinds is your partner on a journey of acquiring new knowledge skills and applying them in your daily lives to enable you to live the life of your dreams. We share with you NLP patterns and NLP techniques in Mumbai which you could use for you
View More
NEBOSH IGC Course in Mumbai-Andheri
Career Courses -

Andheri east,

Mumbai

Health and safety professionals have the rewarding role, by preventing workplace fatalities and creating the safest work environment. The role of Health & Safety professionals is non-negotiable in the industrial sectors; hence the job requirement is
View More