Home >> Mumbai Ads >>

Education Classifieds
India's largest listing of education ads, free classified education ads from all around the Mumbai. The advertisers can list their advertisements by free of cost with limited steps in various categories. People can view the education related free advertisement details by clicking on the subcategory and titles. People can contact the advertisers with help of details under the titles.
Mumbai News
Premium ads
MPSC Coaching Classes Mumbai, IAS Coaching Institutes in Mum
Career Courses -

Mulund colony,

Mumbai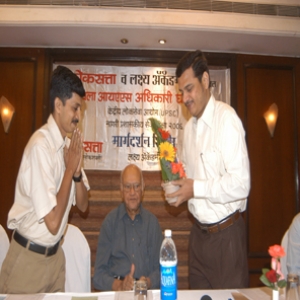 Lakshya IAS Acadamy is one of the top UPSC and MPSC Coaching Institutes in Mumbai. We offers Best MPSC Coaching Classes in Western Suburbs Dadar, Central Suburbs Mulund and Nerul Navi at Mumbai and Pune. For more information, Visit: http://www.
View More
Advanced Teacher Training India Dubai Qatar Bahrain Kuwait O
Career Courses -

Borivali west,

Mumbai

Advanced Teacher Training India Dubai Qatar Bahrain Kuwait Oman Muscat Saudi Arabia UAE Malaysia Singapore Abu Dhabi Bhutan Nigeria South Africa Mozambique Kenya  
View More
Postgraduate Teacher Training Course In Mumbai Pune Bangalor
Coaching Classes -

Borivali west,

Mumbai

Postgraduate Teacher Training Course In Mumbai Pune Bangalore Nasik Vashi Thane Ahmedabad Surat Delhi Noida Gurgaon Goa Chennai Gujarat Karnataka Sangli Haryana  
View More
Enhance your skills with Architectural Internship Courses
Career Courses -

Aarey milk colony,

Mumbai

Grey Edge offers Architectural Internship Courses in Architectural BIM and MEP BIM. These courses are designed to provide students valuable work experience before applying for a full-time job. Grey Edge also provides, MasterClass Courses, CAD/BIM co
View More
Becoming an NLP Practitioner
Coaching Classes -

Dahisar west,

Mumbai

If you want to learn how to apply NLP in communication and become an NLP practitioner, recognized for your innovative thinking, or participate with your colleagues in the NLP classes in Mumbai, or - as a manager, be proactive and learn in a one to on
View More
Best Machine Learning Course mumbai
Career Courses -

Andheri east,

Mumbai

Near learn offers advancement and business courses to specialists and understudies over the globe on an isolated progressing teacher drove Machine Learning classroom training MUMBAI. Near learn offers machine learning python online course MUMBAI in I
View More
NLP Courses - Choosing the Right NLP Course For You
Coaching Classes -

Dahisar west,

Mumbai

At EmpoweredMinds we work at unleashing the New Code NLP Courses in Mumbai for a new You. A power that you have never before thought that you have and one that can help you move ahead in life and make those dreams of yours – a reality. Our NLP Counse
View More
Its your right time to enroll your studies in Part time mode
Management Courses -

Anushakti nagar,

Mumbai

Golden opportunity to complete your diploma or any degree from UGC approved universities. Course-10th (S.S.C), 12th (H.S.C), B.A, B.Com, BCA, B.Sc ,BBA, B.Lib, D.Ed Bed, Primary Teacher Training, Nursery Teacher Training, M.A, M.Com, MCA, M.Sc (In
View More
Find best chicken recipes here
Cookery Classes -

Lower parel,

Mumbai

Get to know about chicken recipes only on Living Foodz. We provide the best chicken recipes for example: Chilli chicken, butter chicken, jerk chicken, chicken & salad, chicken wings, tandoori chicken, etc.  On our website you would find the recipe
View More
We provide all Graduation & Post graduation Courses.
Career Courses -

Andheri east,

Mumbai

We provide distance learning programs from UGC-DEC-AICTE approved university.   Course-10th (S.S.C), 12th (H.S.C), B.A, B.Com, BCA, B.Sc ,BBA, B.Lib, D.Ed Bed, Primary Teacher Training, Nursery Teacher Training, M.A, M.Com, MCA, M.Sc (In all Su
View More