Premium ads
MPSC Coaching Classes Mumbai, IAS Coaching Institutes in Mum
Career Courses -

Mulund colony,

Mumbai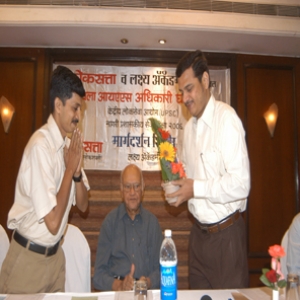 Lakshya IAS Acadamy is one of the top UPSC and MPSC Coaching Institutes in Mumbai. We offers Best MPSC Coaching Classes in Western Suburbs Dadar, Central Suburbs Mulund and Nerul Navi at Mumbai and Pune. For more information, Visit: http://www.
View More
Best Machine Learning Course mumbai
Career Courses -

Andheri east,

Mumbai

Near learn offers advancement and business courses to specialists and understudies over the globe on an isolated progressing teacher drove Machine Learning classroom training MUMBAI. Near learn offers machine learning python online course MUMBAI in I
View More
We provide all Graduation & Post graduation Courses.
Career Courses -

Andheri east,

Mumbai

We provide distance learning programs from UGC-DEC-AICTE approved university. † Course-10th (S.S.C), 12th (H.S.C), B.A, B.Com, BCA, B.Sc ,BBA, B.Lib, D.Ed Bed, Primary Teacher Training, Nursery Teacher Training, M.A, M.Com, MCA, M.Sc (In all Su
View More
LLB admissions open from Arunachal University of Studies
Career Courses -

Andheri east,

Mumbai

ADMISSION OPEN Admissions are Opening For All courses The most common degree programs for engineering certificate and Diploma Program are offered on the bachelorís and masterís levels, and there are many universities that offer these Courses.
View More
Advanced Teacher Training India Dubai Qatar Bahrain Kuwait O
Career Courses -

Borivali west,

Mumbai

Advanced Teacher Training India Dubai Qatar Bahrain Kuwait Oman Muscat Saudi Arabia UAE Malaysia Singapore Abu Dhabi Bhutan Nigeria South Africa Mozambique Kenya †
View More
Knowerx the Premier Institute for APICS Online Training Ind.
Career Courses -

Kandivali east,

Mumbai

Looking for APICS certification programs online from a reputed institute? KnowerX is the best option for you. The institute offers APICS certifications programs as per industry standards. Whether you need to streamline your supply chain, master the b
View More
NEBOSH IGC Course in Mumbai-Andheri
Career Courses -

Andheri east,

Mumbai

Health and safety professionals have the rewarding role, by preventing workplace fatalities and creating the safest work environment. The role of Health & Safety professionals is non-negotiable in the industrial sectors; hence the job requirement is
View More
Full Time Work-from home Jobs with TFG
Career Courses -

Bandra east,

Mumbai

we are offering an excellent online Home Based Job opportunity requiring only basic computer skills. Possible earning more than Rs. 7000/- every week. †Job extensively suitable for students, businessman, self-employed, housewives & retired, intereste
View More
NEBOSH IDIP course in Mumbai-Vashi
Career Courses -

Vakola,

Mumbai

NEBOSH IDIP will serve to be a useful course for those looking to specialize in the Occupational Health and Safety sector. The NEBOSH IDIP is a level 6 course that covers a vast syllabus on Health and Safety industry. Though it may be challenging to
View More
Choose KnoWerX Education Mumbai for Supply Chain Certificat.
Career Courses -

Kandivali east,

Mumbai

Since 1992, KnoWerX Education (India) Private Limited has been providing valuable knowledge to run businesses better. A Premier Channel Partner of APICS (American Production and Inventory Control Society), KnoWerX has been helping individuals gain pe
View More