Premium ads
Best and Top Engineering Colleges under Anna University in C
Colleges -

Nanganallur,

Chennai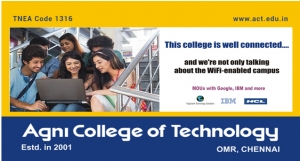 Agni college is one of the top engineering colleges in Chennai under Anna University. Agni College of Technology was established in the year 2001 by Sri Balaji Charitable and Educational Trust with the objective of producing high quality Engineers an
View More
Fire safety and HSE Training,Coimbatore
Management Courses -

Siddhapudur,

Coimbatore

NIFS--SCHOOL OF SAFETY is providing Govt. of India's Recognised and Approved University Fire Safety 1year Diploma and B.Sc, MBA courses related to Industrial, Fire safety and construction safety with Excellent In-plant / Industrial practical training
View More
STUDY IN SINGAPORE | UNIK Global Services
Studies Abroads -

Nungambakkam high road,

Chennai

Singapore is regarded as the country which shows its excellence in education, technology, finance and commerce as well as transport. Their cultural diversity enables students to seek overseas education hassle free. Our UNIK consultant at Chennai, ass
View More
Java training institute in chennai
Career Courses -

Velachery,

Chennai

  FITA offers Java Training in Chennai with practical implementation and placement assistance where trainers have real time work experience of minimum 5+ years in their field. Java Training includes practical session along with theory classes. FIT
View More
NEBOSH IGC Course in Nagercoil
Career Courses -

Teynampet,

Chennai

NEBOSH IGC is a world renowned job-oriented course that fetches you opportunities in the safety industry. Enroll now in our upcoming batches and take your career to greater heights. Hurry Up!! Registrations close by October 29 at Nagercoil
View More
STEM Lab for schools, IOT training coimbatore, 3D Designing
Computer Courses -

Thudialur,

Coimbatore

STEMians is the Best IOT Workshop and Robotics workshop in Coimbatore with 3D Designing courses Coimbatore. We also Provide the STEM Lab for schools,  Scratch workshop and IOT training coimbatore.
View More
Spring Training in Chennai
Career Courses -

Velachery,

Chennai

Spring Framework is considered as one of the most popular application frameworks in the Java community which was introduced by Rod Johnson in 2003. It provides comprehensive infrastructure support to develop enterprise Java applications very easily.
View More
Hibernate Training in Chennai
Career Guidances -

Velachery,

Chennai

Hibernate is an ORM framework which helps you to perform the database operation on Java objects (entities). Programmers with sound knowledge of Java are in great demand nowadays. With the large installed base, this continues to create jobs in the tec
View More
Struts Training in Chennai
Career Courses -

Velachery,

Chennai

Struts is an action-based web framework which simplifies the creation of web and mobile applications in Java. It is based on Model-View-Framework (MVC) architect who was found in "Smalltalk" language. An Xwork and WebWork concept is used to create by
View More
IELTS Training in Tambaram
Career Courses -

Thiruvanmiyur,

Chennai

Generally, to get a decent score, you need a minimum practice which depends on the individual's level in English knowledge. Then it's necessary for you to have a guide to give you the training to improve your level in English skills. In this case
View More